In fiction, all things made out of metal tend to seem impervious to damage. But anyone who works with or designs precision machines, such as aircraft, knows better. Even in the dry Arizona climate, airplanes, helicopters, and the like are vulnerable to corrosion, rust, dust ingress, and even pests- which can cause immeasurable aircraft damage.
Here at Bunger Steel, we build some of the finest steel buildings on the market. But we take special pleasure in designing steel aircraft hangars and other airplane storage modules because there is no steel building application that more clearly delivers substantial protection for valuable working assets than a steel aircraft hangar.
Here are five reasons you should store your aircraft in a steel aircraft hangar from Bunger Steel.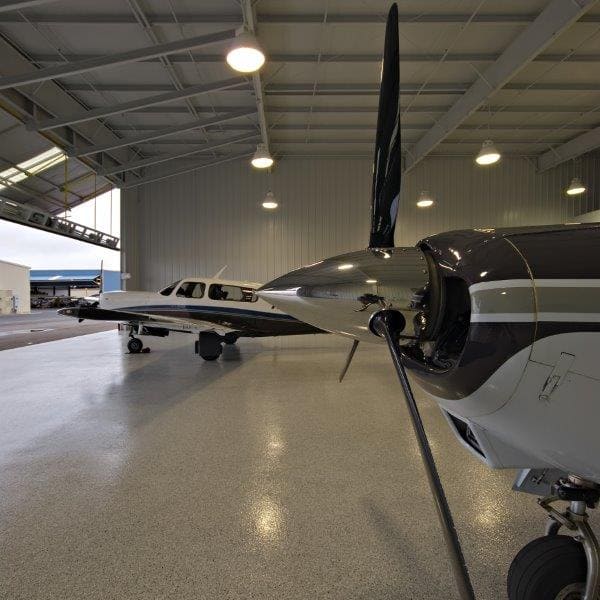 You take great pride in your aircraft, as you should. It is a working asset that is certainly a joy to use and can potentially deliver massive returns on its value. That's why it's so important to protect your investment with Bunger Steel.
Steel Buildings are Safe
Steel buildings can be insulated from the elements as well or better than any other type of building. With rubber seal-lined doors, windows, and vents, you can also protect the interior from dust and insect ingress. All of these are potentially ruinous to your aircraft.
Steel Buildings are Secure
With their strong outer shell, steel buildings can be made as secure or more secure than any other type of building. With mechanical and active security measures, you can protect your aircraft thoroughly- and with strong steel walls- your flying machines will be even more secure.
Spacious & Custom Built
Every pilot loves to walk around his plane, examining it closely and admiring its design. With Bunger Steel buildings, your hangar will be built to your specifications. Not only giving you room to walk around the aircraft, but also plenty of room to store the tools and equipment needed for a helicopter or airplane care and maintenance.
Steel Buildings are Long Lasting
With the proper sealing and care, your steel hangar can last for decades, possibly even for generations. You'll take pride in knowing that you will have established a long-standing asset that will protect your aircraft and help keep your business growing strong for many years.
Protects Your Investment
Even the smallest airplanes and helicopters cost tens of thousands of dollars to buy, operate, and maintain. Surely, you've spent a small fortune on your aerial vehicle/s and do not wish to see them turn to rust under the harsh Arizona sun.
When you work with the steel building professionals here at Bunger Steel in Phoenix, AZ, you can count on professional-grade design, fabrication, and construction. Let us help you keep your aircraft looking as good as the day you bought it with Bunger Steel buildings.
Sources
https://www.pilotsofamerica.com/community/threads/how-bad-is-storing-your-plane-on-tie-downs-and-not-in-a-hangar.96150/