When it comes to steel buildings in Arizona, Bunger Steel knows there are many different options out there and different ways to make your Arizona steel building uniquely yours. But even we have our favorites, which allow us to stretch our metal-building skills to new levels. Here's a look at three of our favorite projects.
Copper Brothel Brewery
With a family dream of owning a brewery, the Jesser family came to us to create a space not only to house their brewing equipment but a complete restaurant as well. Using a modern design that hinted at the idea's Old West roots, we drafted a building featuring a step-down roof and open patio. Incorporating our exclusive Bunger Rust color in the wall panels created the appearance of a weathered exterior.
Copper penny trim and roof panels complemented the look and reinforced the name, while the stone facia at the front of the structure made it look fabulous. The adaptations that happened along the way required open communications on both ends, which led to an exceptional steel structure that will last for many years to come.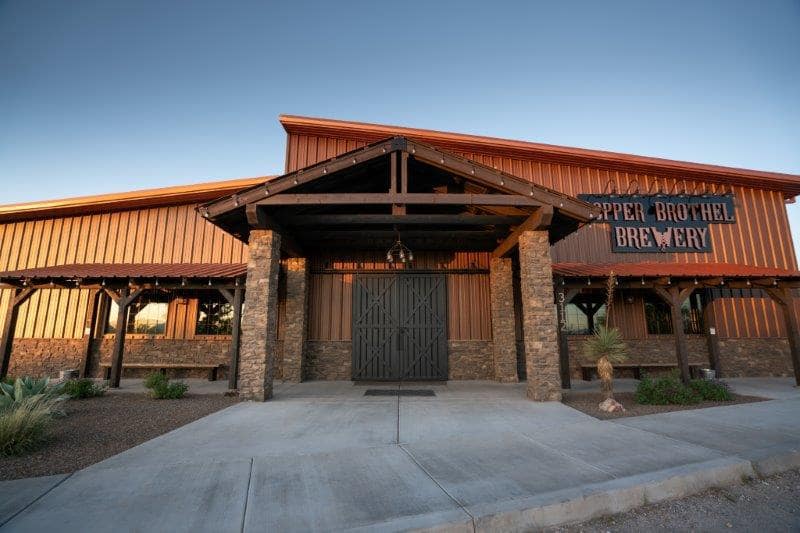 Freightliner of Arizona
When Freightliner of Arizona needed four structures for its sales and service departments and a technology school in Tolleson, Arizona, we knew it would be a complex process. Servicing large trucks requires a number of special accommodations, including large overhangs, a louvered canopy system, bridge cranes, and lube/maintenance pits.
We worked closely with their general contractor and architect throughout the multi-phase process to ensure everything was correct, including the over 50 sensor-equipped skylights that can reposition themselves to increase the use of natural lighting. By the time we were finished, Freightliner was so happy with the work they turned to us later when they needed to build in Tucson.
Glendale Air Park
Secure, large, and pristine. This was the focus of the Glendale Air Park, but what we hadn't considered initially was adaptability. We were ready to construct the building when we realized the customer wanted to use bi-fold doors. Our dedication to customer satisfaction with the final product brought us back to the drawing board to get creative.
To make this happen without additional costs, we modified a pair of details in the original design, moving columns around so that the doors could ride on the columns themselves. The customer was able to use their purchased doors at no additional cost.
These three projects will stand out for us for a long time because of their unique nature. If you're getting ready to build an Arizona steel building, Bunger Steel is here to help. We stand out because of our talented design team that can help you turn your dreams into a reality. Please feel free to reach out today with any questions, for more details, or to schedule a consultation for your quality steel building.