A metal and brick building can give you the best of both worlds in durability and aesthetics. Instead of choosing between one or the other, consider using both for your building exterior. Knowing how to build a steel building that incorporates brick can help you enjoy the benefits that these materials have to offer. Keep the following in mind when deciding on an exterior for your building.
Benefits of Metal Buildings
Metal buildings offer some important benefits compared to other building materials. Steel or metal buildings tend to be more cost-effective than other materials. This can help you save money on the cost of your new building. Metal buildings can also handle extreme temperature fluctuations and adverse weather conditions, reducing the risk of excessive wear and tear or damage. This durability helps ensure that these buildings last for years without needing extensive repairs. Metal buildings also require less maintenance overall, leading to even more cost savings. Metal can also provide energy efficiency since it deflects heat. This can help to build interiors that feel cooler in summer.
Benefits of Brick Buildings
Brick buildings provide a classic look that can add value to commercial properties. A brick exterior offers a timeless appearance that you won't have to worry about going out of style. Brick can also provide good energy efficiency as long as cracks and other gaps are sealed up as needed. This type of material offers insulating properties as well, which can help your building interior stay warmer in winter and more relaxed in summer. These insulating properties can help you save money on heating and cooling costs for your commercial property. Brick exteriors also don't need as much cleaning and maintenance as other materials, such as vinyl siding. They're also resistant to fire, which helps keep your building safe.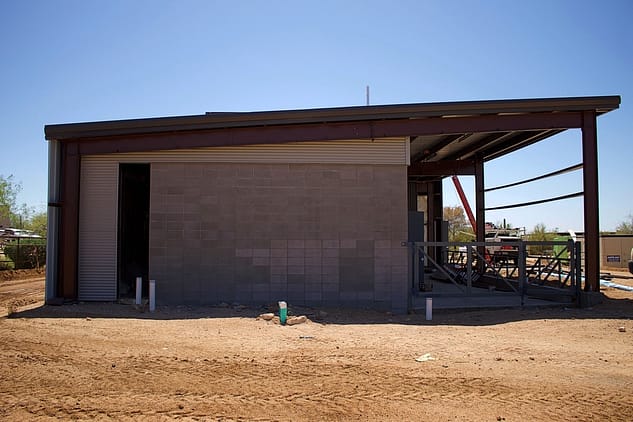 How to Build a Steel Building with Brick
When building a steel building, you can include brick as part of the exterior. For example, you can place a brick veneer over a steel frame. This combination provides you with a beautiful, stylish brick finish over a durable metal frame. With a brick and metal exterior, you can enhance the appearance of your building while ensuring that it resists wear and tear over the years. If you have areas of metal or steel showing on the exterior of your building, keep in mind that you can enhance them. You can have steel areas painted to complement surrounding areas of brick veneer, for example. This can provide a visually appealing finish for your building.
Visit Us for Steel Building Options
If you're planning on building a steel building that includes brick, please contact the Bunger Steel team today for more information. Our family-owned business manufactures high-quality steel buildings in Arizona, including commercial and industrial buildings. We can help you come up with the right design for your building.