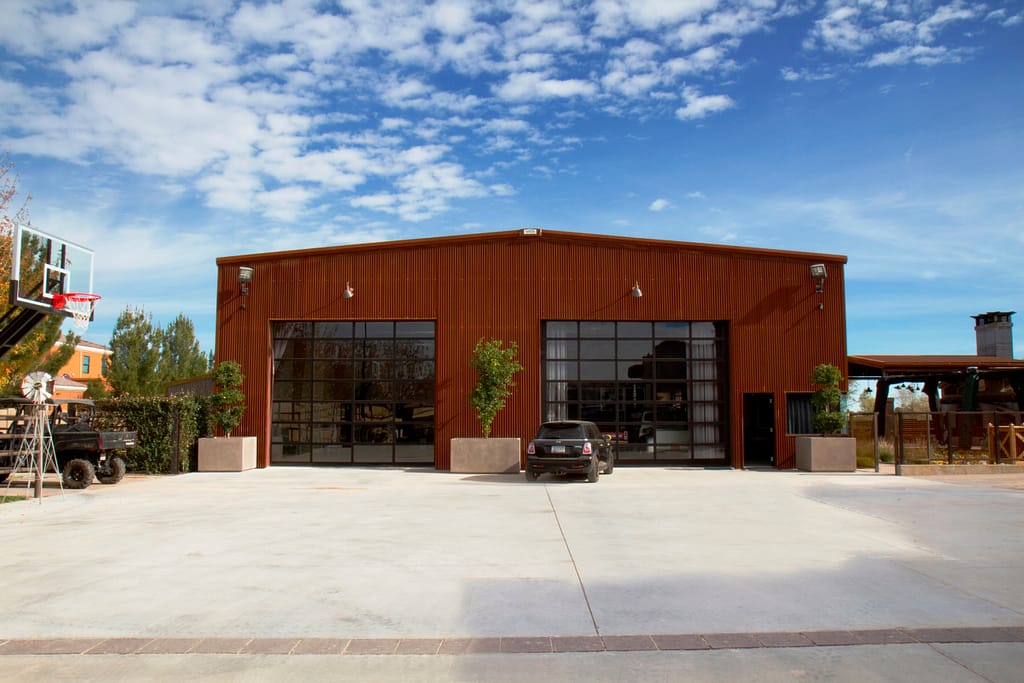 Whether you're building a storage facility, an aircraft hangar, or a commercial retail space, you can make your steel building truly your own by adding personal touches and customizable features. Here are just a few ways to do it.
On a Steel Building, Colors Can Add A Lot
One of the easiest ways to make your building stand out from the rest is to add some color. Not every steel building has to be the standard steel color – although that can look great, too. We're a little partial to our exclusive Bunger Rust color, of course, but can accommodate a variety of color options.
Perhaps an emerald green or cool blue will help bring the vision of your new building to life. Looking for something a little less bold? When it comes to metal building color options, even a classic white or subtle charcoal color can add some personality to your build. Regardless of which hue you choose, picking a color is a must-do part of your project.
Show Off Your Style with Doors and Windows
Doors – Inside and Out
Let your visitors know your style the moment they walk in the door – literally. Double doors, french doors, oversized doors, sliding doors, wood doors, metal doors, the possibilities are endless. Is a sleek, contemporary door your style? Maybe something more on the industrial side? Or perhaps you just need a traditional, functional door. From style to color to size, doors are an easy way to make a statement.
Windows
Whether you choose small, functional windows or floor to ceiling statement windows, you can add a lot to a building with these versatile panes of glass. Want to show off your interior or just add a lot of light to a showroom? Picture windows are a great option. Maybe you're building a guest house and want your visitors to be able to enjoy a cool breeze from time to time. Slider windows work well just about anywhere. Think about how you will be using your steel building and match the right kind of window to your needs.
Garage Doors
Garage doors aren't just for garages anymore. If you're going to be using our steel building as a restaurant, installing a garage door is an easy way to bring your indoor dining space and outdoor patio seating together.
Of course, if your building includes an actual garage, you can get creative with the type of door you choose. Garage doors with glass panels are a popular choice. One of our favorite projects, the Ethier House, featured dramatic, oversized garage doors with glass panels. If you're after a modern design aesthetic you might choose a door with a wood facade. Traditional more your speed? Choose a color that complements your exterior.
Skylights
If the interior design of your building includes a space without a lot of windows but you still want to enjoy natural light, consider adding a skylight. They're also a great option if privacy is a concern or if the function of your building doesn't allow for windows.
Create a Look That's Truly Unique with Stucco or Veneer
Stucco
Stucco is one of the most popular ways to customize a metal building. It can add curb appeal or even help your building blend into a neighborhood. From traditional stuccoes, like those you'd find on a residential home, to siding panels, stucco can provide a great look to your steel building.
Veneer
Another option for personalizing your building is adding a veneer to your exterior. Brick veneer can add a classic look to your building, while faux stone or rock can lend itself to a rustic style or even a modern beauty, depending on the design you choose. There is a wide variety of veneer options available so don't be afraid to get creative.
Make a Statement With a Sharp-Looking Roofline
The pitch of a roof can drastically change the look of a building. The pitch is simply the slope of a roof. A flatter pitch can give your building a more boxy look while a high pitch can lend itself to a more dramatic effect. For example, barns or agricultural buildings often need a high pitched roof. Just take a look at some of the agricultural buildings Bunger Steel has produced.
Include Awnings or Overhangs For Function or Flair
On a metal building exterior, options like overhangs and awnings can help add dimension and visual interest. Give your front entrance some flair with a custom overhang. Add shade to an outdoor patio area with a large awning. Or just create eye-catching sightlines with overhangs that follow the full perimeter of the building.
Feeling inspired? Ready to get to work on your custom steel building? Whatever the project, Bunger Steel can help you from start to finish, including assistance with custom steel building accessories. Get a quote now.